Mumbai: Salman Khan, in the midst of preparing for his upcoming film 'Tiger 3,' recently set social media abuzz after pictures and videos showing him attending a boxing match alongside football icon Cristiano Ronaldo and his partner Georgina Rodriguez in Riyadh, Saudi Arabia surfaced online.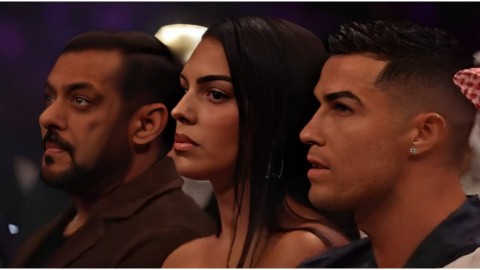 The viral images and videos from the event captured the attention of fans and followers. One particular video stirred conversation when it appeared that Ronaldo seemingly ignored Salman.
And now, a new pic has emerged online, showing both celebrities engrossed in conversation. Salman is seen speaking, prompting a laugh from Ronaldo. The content of their discussion piqued the curiosity of social media users, leading to various speculations.
On social platforms, several netizens humorously suggested that Salman might have been inviting Cristiano Ronaldo to appear on 'Bigg Boss 17: Weekend Ka Vaar.'
Well, it's important to note that this remains purely speculative, and the chances of such an occurrence is next to impossible. Isn't it?
In another video, Ronaldo can be seen engaging in lighthearted banter with boxer Conor McGregor as other guests and cameras surround them. Salman is seen in the background with the crowd, observing the two stars. Check it out below.