After a six-year break, a photo of a doll wearing a sugar-pink dress and hijab posed in front of a matching pink wall was posted on the @hijarbie Instagram account. "This #Hijarbie is back" read the caption – to the delight of its followers whose comments showed how much they welcomed her return.
Haneefah Adam, the Nigerian artist behind @hijarbie, first started showcasing dolls styled in Muslim dress in 2015 after noticing a lack of modest fashion or hijabs on the social media she followed.
A self-taught artist who used to blog about fashion, faith and food, Adam often scrolled through Instagram for inspiration but says, "I didn't see a doll that looked like me."
So she decided to make her own, and set to work sewing a navy maxi skirt, blue blouse and black hijab, posting a photo of her doll in the finished ensemble in December 2015. Positive feedback, including requests to buy the clothes for daughters or nieces, and good-humoured outfit envy – "when a doll's got better style than me" – encouraged her to make more outfits.
In the months that followed she designed an outfit based on a cornflower blue abaya (robe-like dress) worn by British lifestyle and fashion influencer Habiba da Silva, prompting a flurry of media coverage, including Teen Vogue.
Seven years on, Adam has uploaded more than 200 photos on @hijarbie and has 59,000 followers. She has designed about 70 outfits celebrating Muslim culture and fashion, including a range of dolls based on notable Muslim women.
Last month, inspired by the hype around the Barbie movie and its feminist message, she returned to @hijarbie after taking a break to focus on her young family. "Barbie has created a new phenomenon, celebrating femininity, independence and female power," she says.
I'm not a businesswoman, but my female friends encouraged me. They all wanted outfits for their girls to enjoy

Haneefah Adam
The response has been overwhelmingly positive. "Some people wrote things like 'remove your hijab', but that was a minority. Even non-Muslims have appreciated how important it is to talk about representation."
Since creating her account, Adam has seen progress in the representation of women who wear the hijab. In 2017, Mattel released the first Barbie doll to wear a hijab, modelled on the US Olympic fencer Ibtihaj Muhammad – a year after Adam had created her own version of the athlete. She was also thrilled to see a hijab-wearing Barbie in the 2023 film, played by Dr Fatumina Said Abukar.
Adam's artwork draws on her experience of learning the Qur'an and hearing it recited by Arabic scholars as she grew up in Ilorin, a university town in western Nigeria. Alongside her work on modest doll fashion, Adam runs a clothing line and creates food art based on Nigerian dishes. She describes her work as a celebration of her culture and identity.
Despite showing an early talent in fine arts at school, Adam did not consider a career as an artist. She wanted to be a doctor but ended up studying physiology, followed by a master's in pharmacology and drug discovery in the UK.
After returning to Nigeria, however, she rediscovered her passion and began sharing her creations online. Winning a food art competition in 2016 was the boost she needed to launch her artistic career. She was soon getting commissions and has hosted exhibitions of her work in Nigeria and New York.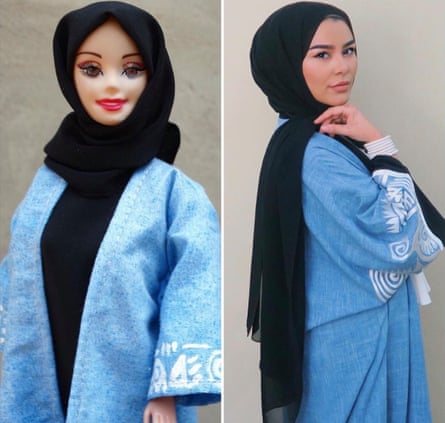 Adam, who is now 32 and lives in Lagos, is preparing to scale up her work on @hijarbie, and aims to showcase more Muslim role models. This month she is launching a website to market her handcrafted modest outfits for dolls. "I'm not a businesswoman," she says, "but my female friends encouraged me. They all wanted outfits for their girls to enjoy."
If the mini outfits prove successful, she also hopes to create matching children's clothes, allowing Muslim girls to coordinate with their dolls.
"My Barbies are diverse," she says. "I have Asian, white, and black dolls in a hijab. Barbie, the brand, also creates dolls in the likeness of celebrities and role models. The doll exists to celebrate all of us."